High-performance layer palletizer impresses in the tightest of spaces
With the HLP 6000 high-performance layer palletizer, TRAPO is presenting a modular system that can be adapted to any space situation and that acts flexibly in terms of product and industry at any position within production.
The compact layer palletizer deposits perfectly and realizes any layer patterns of different formats – up to ten layers per minute.
The HLP 6000 serves an almost unlimited product range: highly flexible, as it can be adjusted to any product. This means that perfect, clean layers and piles can be formed under maximum performance with a wide product variety from the customer and different formats.
With this considerable advantage, the HLP shows off its unique selling point, absolute flexibility: Until now, a great deal of modification work was required to implement complex layer patterns.
The basic modules of the HLP 6000 are the lifting column, the layer gripper and the infeed section. The HLP 6000 is available in three variants:
Advantages
Small footprint
Extremely compact palletizer
Modular system
Multiple infeeds
Bottom/top infeed
Wide range of layer pad designs
High speeds
Possibility of palletizing on several palletizing stations
Palletizing capacity of up to ten layers per minute
Clean pallet image due to centering of the products in the gripper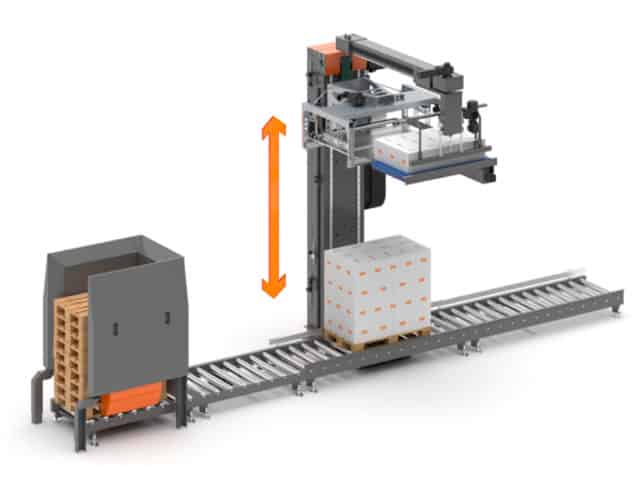 Basic variant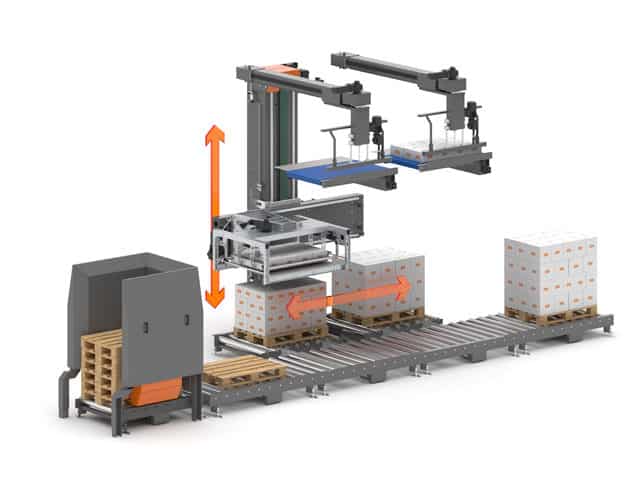 Variant with Y-axis: The HLP 6000 serves several palletizing stations and can act with both high and low infeed.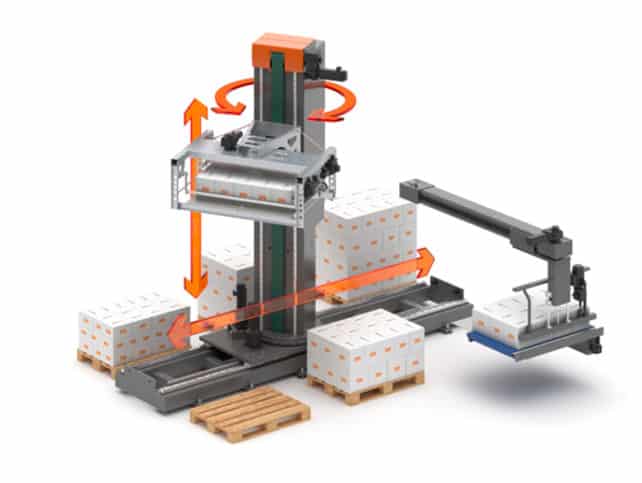 Variant with rotary module or traversing axis or a combination of both:
There, the traversing high-performance professional moves along a specified length, with the rotary variant acting in a radius of 180°.
Precisely distribute products and form layers
Precise layer formation is the basis for ensuring that loads are optimally secured on their journey to intermediate storage or in intermodal transport to their destination. A wide variety of products are moved and precisely positioned depending on their nature.
The automation of partial and complete systems requires adjustments in the effectiveness and performance of palletizing tasks. In the infeed area, depending on the product and the task, the flexible, omnidirectional OMNI CON® table, the high-performance parallel kinematics of the HKS series with intermittent conveyor, or conventional methods form the layers as a preliminary stage to palletizing.
Once the layer pattern and product dimensions have been specified, the kinematics and OMNI CON® program themselves – thanks to TRAPO's own software.
HLP 6000
HLP 6000 basic variant
HLP 6000 with Y-axis
HLP with rotary module / traversing axis or combination of both
HLP 6000 with top infeed area and bottom palletizing station
The HLP 6000 with Y-axis serves several palletizing stations, in-feed area at the bottom or top, palletizing stations at the bottom
HLP with rotary module / traversing axis or combination of both: traverses along a given length; the rotary variant operates in a radius of 180°
Modular system
Performance:
Up to 10 layers/min.
Layer weight:
Up to 200 kg
Palletizer net weight:
1950 kg
Power supply:
400V
Low friction recirculating ball-bearing guides
Low space requirement / extremely compact
Different pallet formats (Euro, industrial, Chep etc.) possible with one layer gripper without mechanical conversion
Possibility to palletize different products by type
Different layer pad designs
Integrated drop guarding
Equipment of the palletizing stations with gangway and maintenance stations
For the care sector in stainless steel design
Low space requirement / extremely compact
Different pallet formats (Euro, industrial, Chep etc.) possible with one layer gripper without mechanical conversion
Possibility to palletize different products by type
Different layer pad designs
Integrated drop guarding
Equipment of the palletizing stations with gangway and maintenance stations
For the care sector in stainless steel design