Parallel kinematics:
Z-axis optimizes packing tasks
Carton filling with Kinematic: With individually-designed multifunctional grippers or vacuum cups, the kinematic picker of the TPS series (TRAPO Packing System) can pick up any products weighing up to 10kg to place them in cartons, trays or other containers.
TRAPO uses innovative high-performance kinematics for the further packaging of primary packaging. In the variant with a large radius of action, the picker has a rotationally symmetrical working space thanks to the parallel kinematic design and can reach far behind itself.
The modular system can be used as a high-speed kinematic system with up to 60 parts/minute and payload up to 10kg.
At high speed, it offers an enormous working space: optionally available with two strokes (200mm and 400mm).
Unique worldwide: Packaging with parallel kinematics
The high-performance parallel kinematics of the TPS series consist of a five-link kinematic structure, a Z-axis and a rotary module for orientation. With the help of a camera, the parallel kinematics detects the position of the parts. These are gripped or discharged in the NIO case.
Advantages
Kinematics replaces the conventional application with articulated arm robots
Up to 60 picks/min
Payload up to 10kg
Modular system
In-house gripper development and production
Axis drive by torque motors
Picker cell can be expanded at any time
Z-axis optimizes packing tasks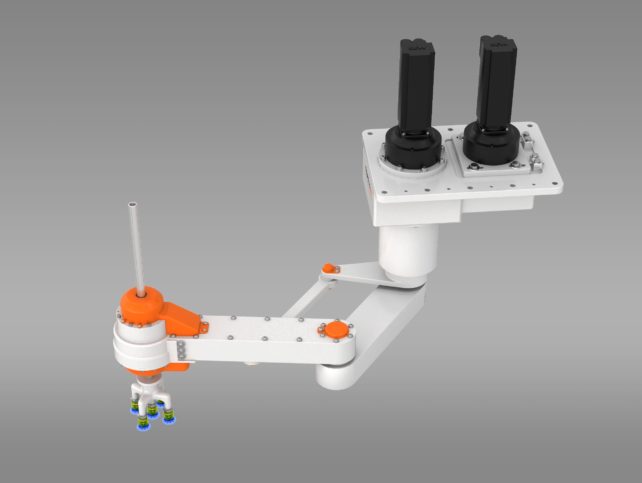 The kinematic picker is also used for loading cardboard boxes.
Designed for packing primary packed products.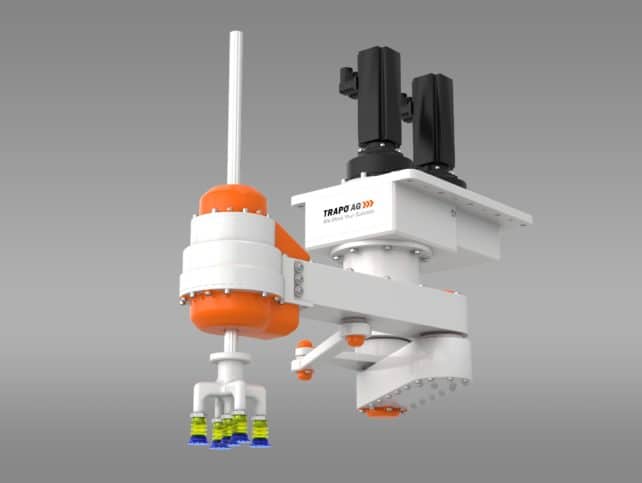 Designed for packing primary packed products.
Kinematics replaces the conventional picker
Parallel kinematics picker with 4 axes
Performance: up to 60 picks/min. per robot (depending on payload)
Payload: up to 10 kg (incl. gripper)
Dead weight: 145 kg
Optional large action radius (800 mm) or large stroke (200 mm)
Power supply: 400V
Energy supply at the media flange for the gripper: pneumatic and electric
Direct drive of the lifting and rotating unit by torque motors
Modular design of the high-performance picker line; can be expanded at any time
No interfaces: Gripper and kinematics from a single source; only one control software for the kinematics
Individual gripper technology: in-house gripper development and production
Multifunctional application: removal – transfer – sorting – packaging
Standard options for carton filling
Picker application for
high performance packing
TRAPO AG automates the packaging process: products are packaged at a consistently high speed without any loss of quality. Primary packed goods are handled gently and packed.
Fully-automatic carton erectors and other accessories complement and optimize the automated loading of cartons.
On offer: models with varying outputs, for different carton formats, with side flap spreader as well as glue-closure of the carton bottom or adhesive tape dispenser.
Advantages
Kinematics replaces the conventional application with delta or articulated-arm robots
High flexibility and performance
In-house gripper development and production
Picker cell can be expanded at any time
Special hygienic design
Flexible feeding of trays