TRAPO: Responsibility for people and the environment
Sustainability is the basis for economic success: That is why social, ecological and economic responsibility is anchored in TRAPO's mission statement and is an integral part of our corporate strategy. It provides orientation for customers, partners and employees.
We develop innovative solutions that will last in the future
As TRAPO we take responsibility for planet, people and profit. We regard legal requirements for the protection of the environment and its resources as minimum requirements and, wherever technically possible and economically justifiable, we will take measures that go beyond them.
Acting in an entrepreneurially-responsible manner also means acting transparently in all our actions, striving for active climate protection and – especially in times of pandemics – not losing sight of the safety of people and goods.
Our goal is to continue to contribute to a sustainable quality of life and better working conditions worldwide with modern automation solutions, overall plant competence, innovative and proven components, and services.
On site, TRAPO , as a medium-sized company, assumes responsibility for the location and the people who live and work here.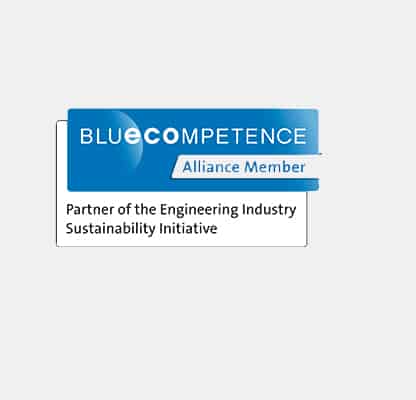 The Initiative Blue Competence
We are Alliance Member of the Sustainability Initiative Blue Competence. Blue Competence (https://www.vdma.org/bluecompetence) is an initiative of the VDMA for promoting and communication of sustainable solutions for the Mechanical Engineering Industry. By using the trademark "Blue Competence", we commit ourselves to these twelve Sustainability Guidelines of the Mechanical Engineering Industry: https://www.vdma.org/bluecompetence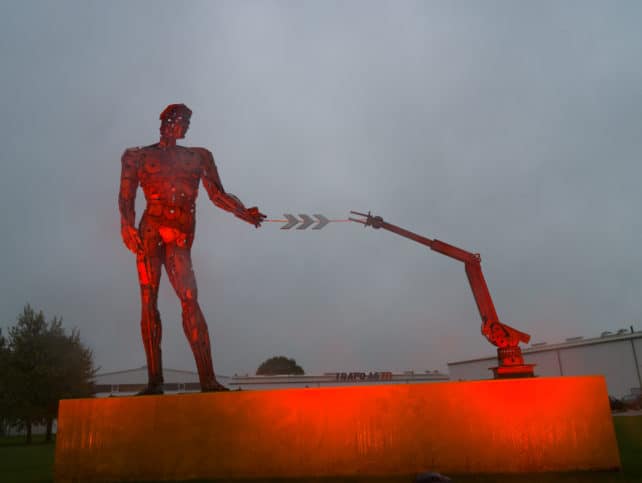 Sculpture from leftover materials from manufacturing
A four-meter-high sculpture has found its place on the premises of TRAPO. The Italian artist Angelo Monitillo used leftovers for it: punched out and lasered remnants from production. His tool: the welding machine. His theme: the encounter between man and robot. At the same time, the representative sculpture is a symbol of TRAPO's sustainability efforts.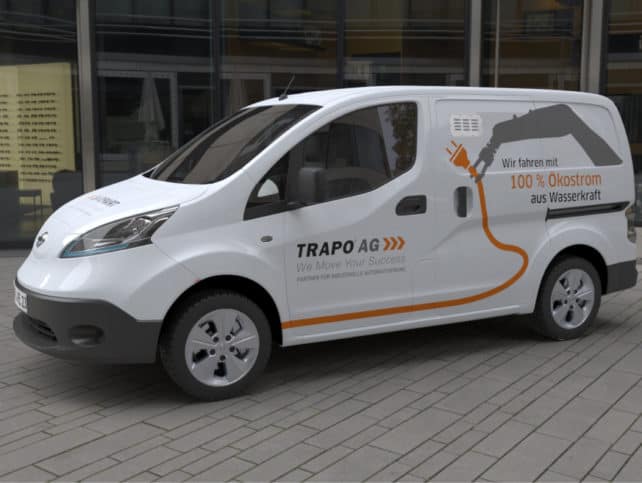 Company car drives ecologically!
Courier runs, customer visits and transports: Thanks to the e-mobile, the TRAPO team is 100% emission-free and quiet on site; the charging station is located on the factory premises. When the runabout is in the parking lot in Gescher-Hochmoor, it is actually resting – and charging its battery along the way so that it is fit for the next tour!
Save resources
Current developments in the area of research and development also reflect the understanding of sustainability and give investors a clear signal: As a partner for industrial automation, TRAPO offers total line solutions for production and intralogistics worldwide for more efficiency, less consumption of resources and higher safety.