From manual operation to a fully automated depalletizing system
Until now, depalletizing has often been done manually – automating this activity enables stable, safe operations with consistently efficient production processes. A depalletizer as an integral part of an automated line works reliably in 24/7 three-shift operation.
High-speed depalletizers complete automated production lines. This is because products are not only stacked on pallets, they also have to be unpacked and removed at a constant rate. This is a time-saving intralogistics challenge that is geared to the product and the subsequent task. 
High-Speed Layer Depalletizer: six layers/minute
The High-Speed Layer Depalletizer (HLDP series) combines several innovations at once: Its output of up to 90,000 empty cans per hour is impressive. Thanks to its modular design, the HLDP can also handle jars and bottles in the same way.
This innovative solution is impressive thanks to the use of a lifting column in combination with a magnetic or vacuum gripper, thus enabling the efficient depalletizing of empty food cans (tinplate/aluminum) or empty jars – at a rate of up to six layers per minute. This corresponds to around 1,500 empty cans per minute.
A safety innovation in this performance class: the depalletizer is operated completely at ground level – a second operating level by means of a platform is avoided.
Advantages
Output: up to six 6 layers per minute
For empty cans (tinplate, aluminum) and empty jars
Modular system
For empty glass: no broken glass in further production due to vacuum
Level operation
Pallet formats: all common formats (Euro, industrial, CHEP etc.)
TTS Ready Shuttle connection
Sustainably increase depalletizing performance for empty cans and jars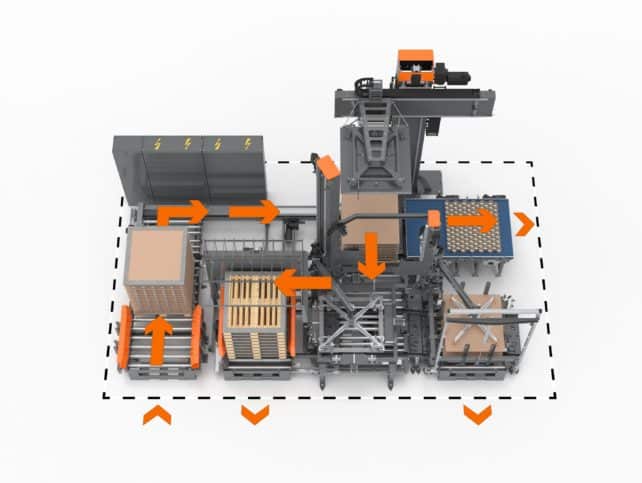 Complex, fully automated depalletizing line for food cans.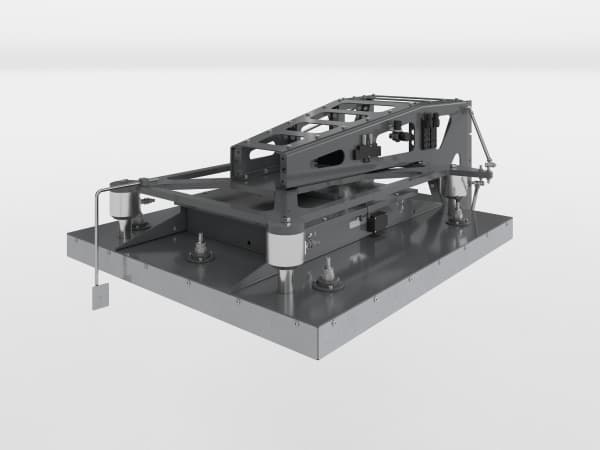 Magnetic gripper with integrated pneumatic magnetic plate - for maximum holding force
when picking up the total layer.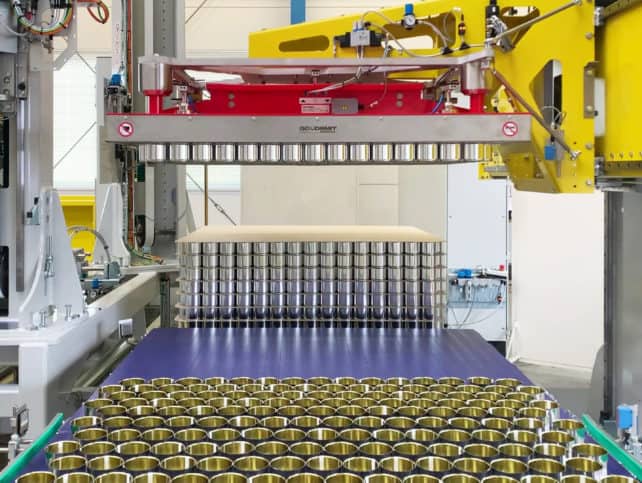 Empty cans are placed on the conveyor belt and transported for filling.
HLDP with magnetic gripper
HLDP with vacuum gripper
Cover frame centering at working level for exact centering of the cover frames before restacking
Highly dynamic Y-Z axis for repeatable pick-up and placement of layers
Pallet magazine for holding empty pallets up to a size of 1250mm x 1150mm incl. cover frame
Modular system
Depalletizing capacity cans: up to six layers per minute – up to 90,000 empty cans per hour
Depalletizing capacity jars: up to four layers per minute, up to 60,000 jars per hour
Power supply: 400V – 50Hz
Bottom discharge (modular system) – top discharge optional
Can be operated at ground level – no platform required
Compact footprint
Empty cans (tinplate, aluminum) and empty glasses possible
With empty glass: no broken glass in subsequent production due to vacuum
Depalletizing of tallpacks up to 3000mm on pallets up to 1250 x 1150mm
Pallet formats: all common formats (Euro, industrial, CHEP, etc.)
For the care sector in stainless steel version
Depalletizing with articulated arm robot: safe transfer of palletized goods
TRAPO develops customized high-speed depalletizing systems – based on an articulated arm robot and the multifunctional gripper (HRS series). An efficient answer to frequently changing tray formats, changing sizes of goods to be depalletized and the demand for higher cycle times – combined in one compact machine.
We are specialists for tasks in limited production environments and for products that are difficult to handle, where powerful portal robots (HPS series) are also used.
Specialist for gripper technology
Automated depalletizing solutions grip products piece by piece, as individual or complete layers. Depending on weight and condition, layer palletizers, portal or articulated arm robots plus grippers are used. With the goal of maximum cost efficiency, TRAPO Technikum develops robot grippers analogous to the individual depalletizing task and tests them in practical applications.
Depalletizers for care areas
For depalletizing tasks in care areas, TRAPO teams manufacture all components from stainless steel fabrication in the in-house production.