TRAPO closes safety gap between warehouse and loading bay
Autonomous truck loading and unloading: By dispensing with forklifts in the warehouse and loading area, TRAPO defuses this danger zone and realizes the handling of goods with the TRAPO Loading System (TLS 3600) in terms of effective overall logistics safely and with short distances.
The compact, autonomous TRAPO loading system is unique in terms of function and design. The TLS 3600 gets its name from a special feature: It loads three pallets of 1.200 kg each, i.e. 3.600 kg, in parallel in a single operation.
Autonomous truck and container loading takes place in four steps. First, up to three pallets are placed next to each other in a row on the stationary part of the system and aligned. This is followed by picking up and loading the row.
During the loading process, another row of pallets is formed and made available on the stationary part: a continuous process that saves time and distance and avoids waiting times during pallet loading.
TLS: fast, automated and efficient loading
One-shot comparison products are permanently installed along a length of about 20 meters, in an area that is limited in space anyway. The compact loading and unloading system can move between the loading ramps. The TRAPO Loading Mover (TLM) picks up the loading system in order to move it, either rail- or wheel-driven, and to optimally position it. For where it is not possible to lay tracks in the warehouse floor, the mover travels to the desired loading ramp being placed on wheels. According to requirements and scope, several TLSs operate in the loading zone – for optimum flexibility. Outside the ramp, no structural precautions or personnel are required for the use of the TLS 3600 either on the truck or in the loading zone.
Advantages
High level of savings' potential: Swift, safe loading of pallet freight in transport logistics
Choice of stationary system or mobile between cargo hatch
ONE SYSTEM | ONE CONTROL: TRAPO-derived hard- and software
For employment no modifications are required to the truck-box
Autonomous loading and unloading diffuses any danger-zone
Starting of the loading process via operation outside the loading zone
Damage to the trailer is avoided
Swift loading: low temperature loss between temperature-controlled warehouse and refrigerated box
Delivery of Euro pallets optionally by shuttle-fleet or rigid conveying system
Direct connection to fully-automatic bay warehouse possible
Integration in TIM, the TRAPO Intelligent Managementsystem: monitoring and administration of contracts plus control of shuttle-swarm
Honored with the Handling Award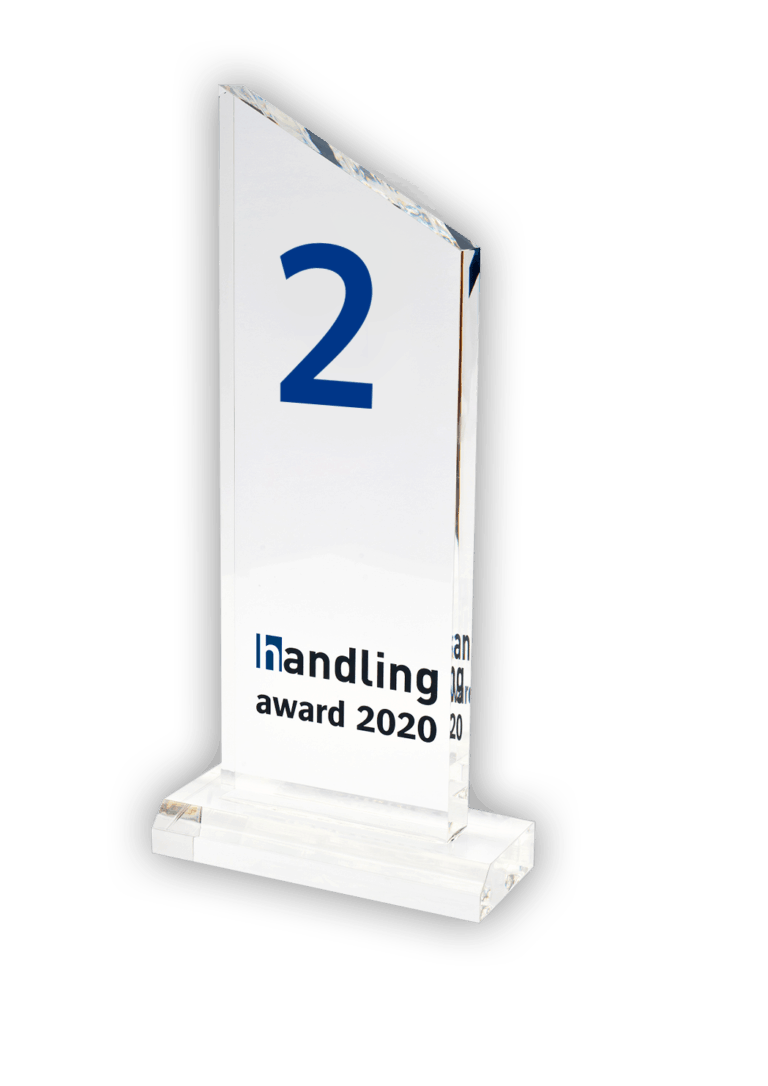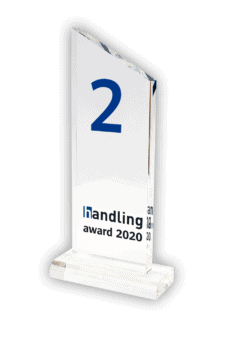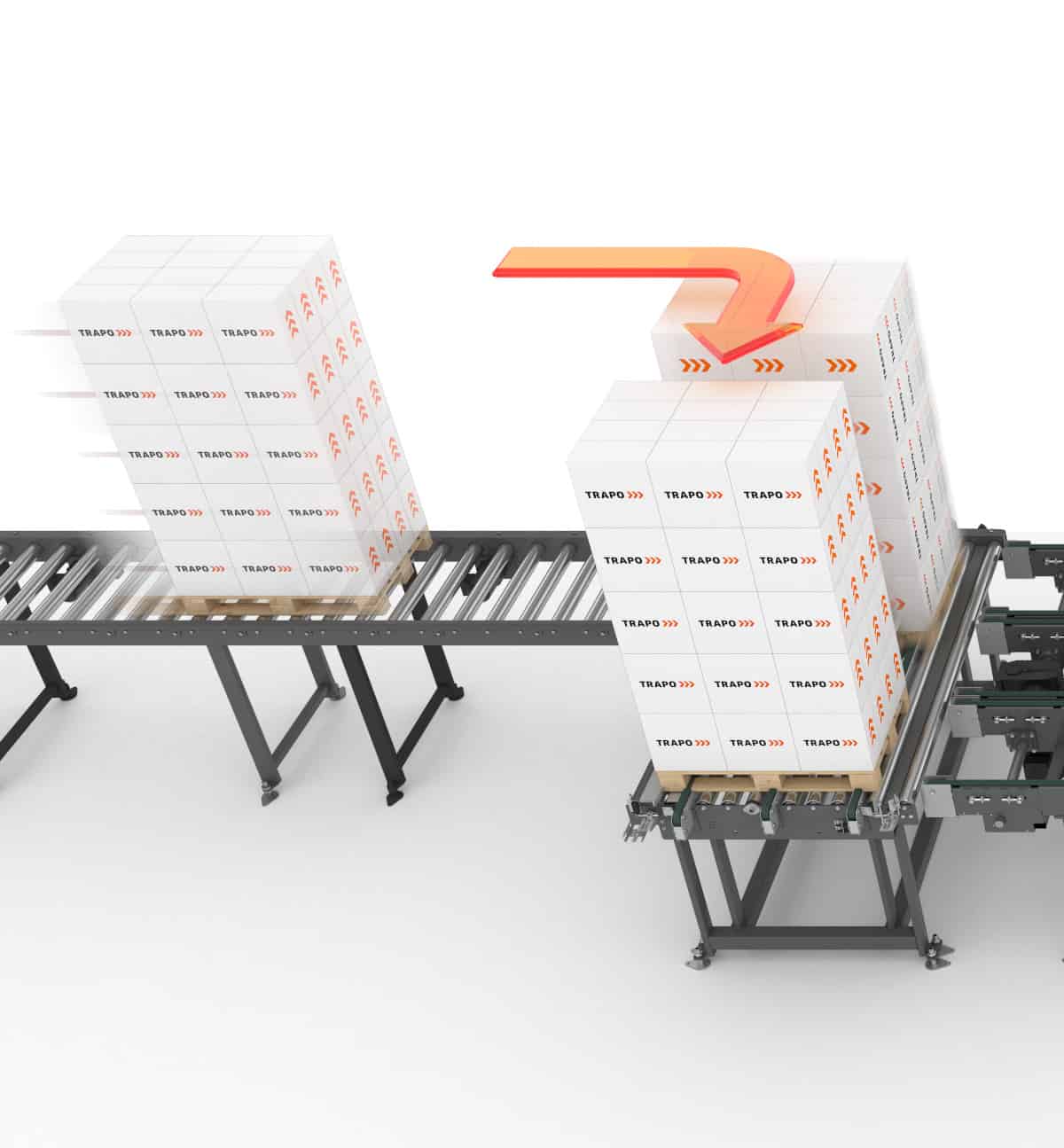 3 pallets each are positioned next to each other in a row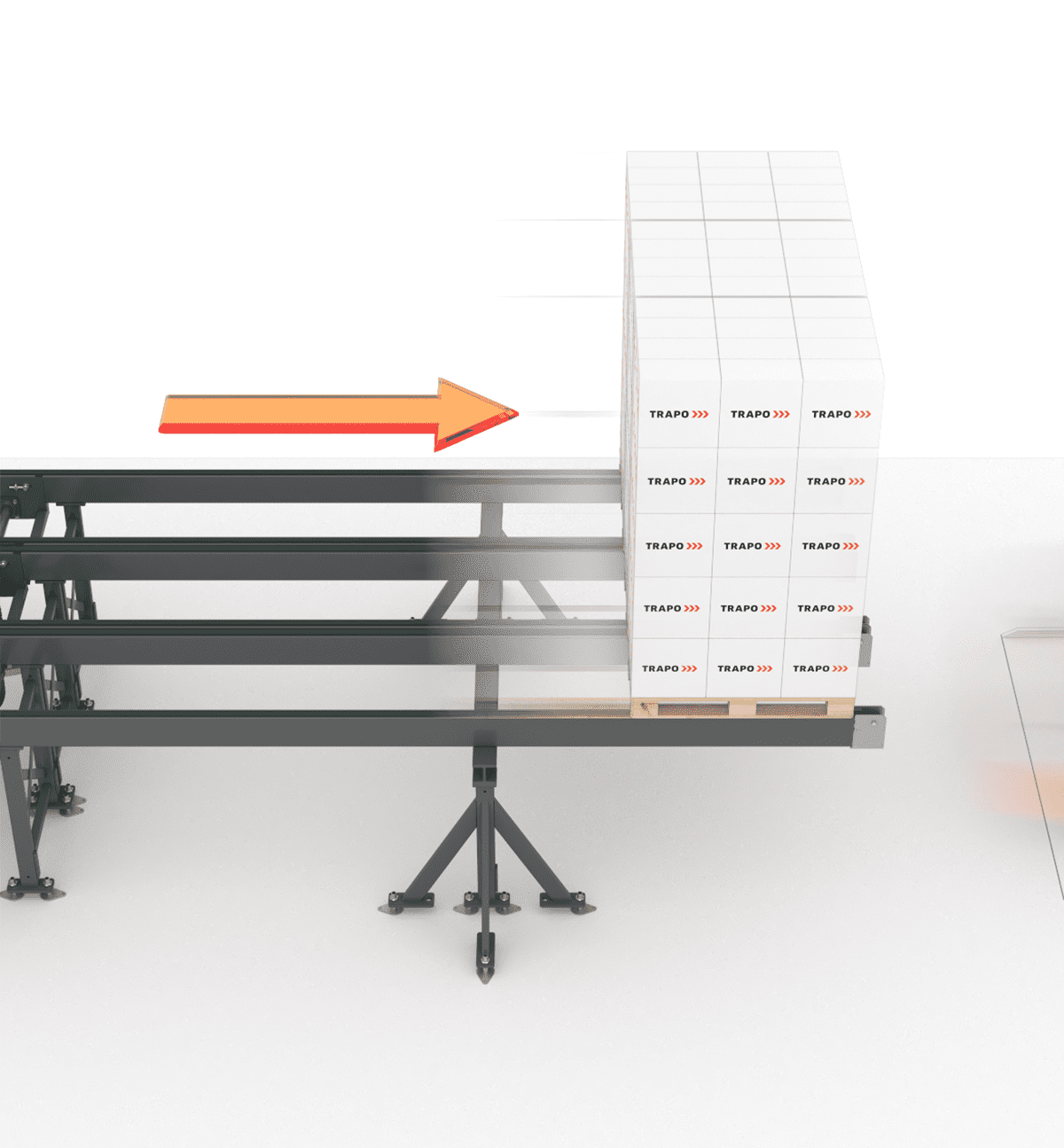 In the waiting position the row is provided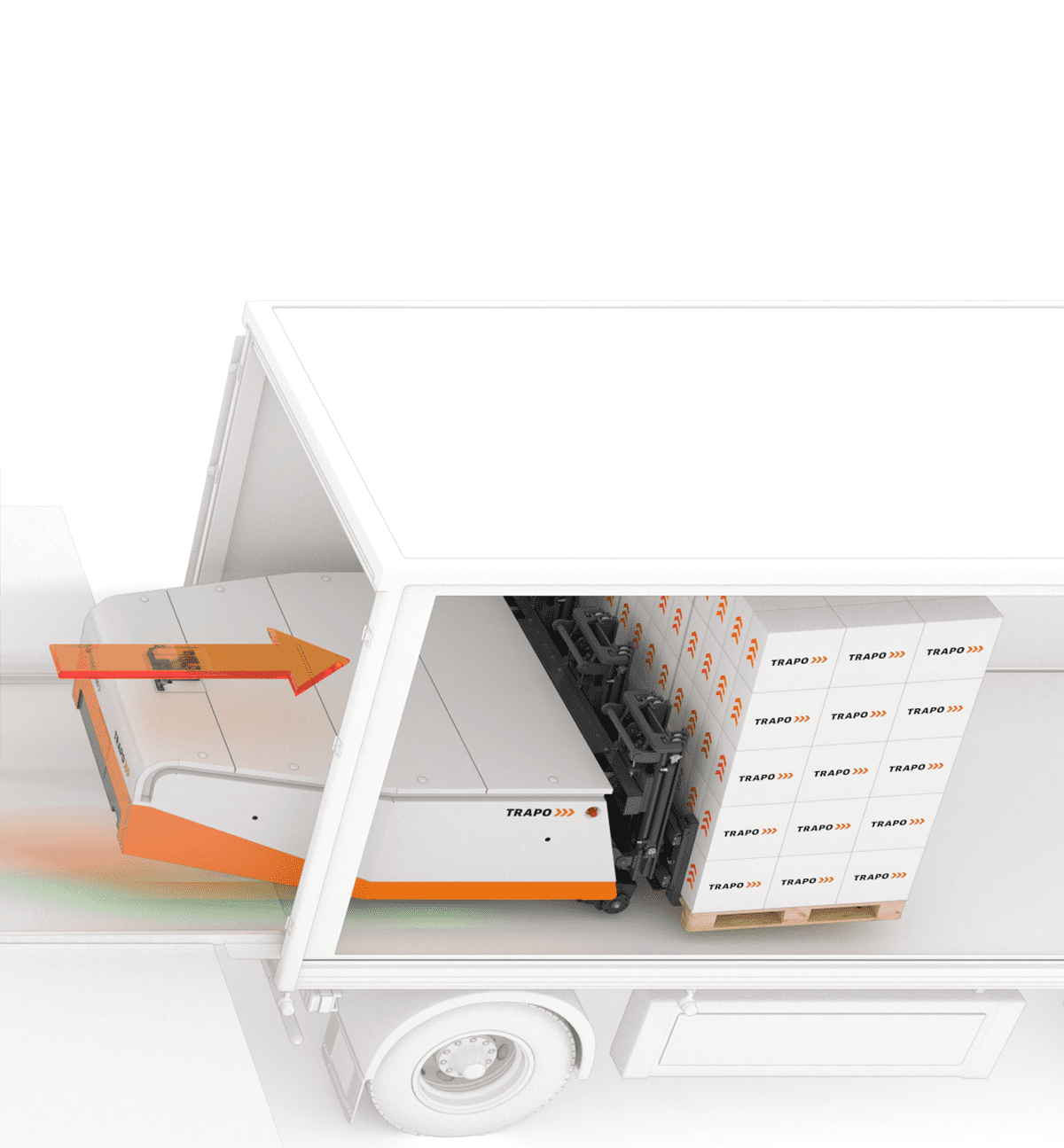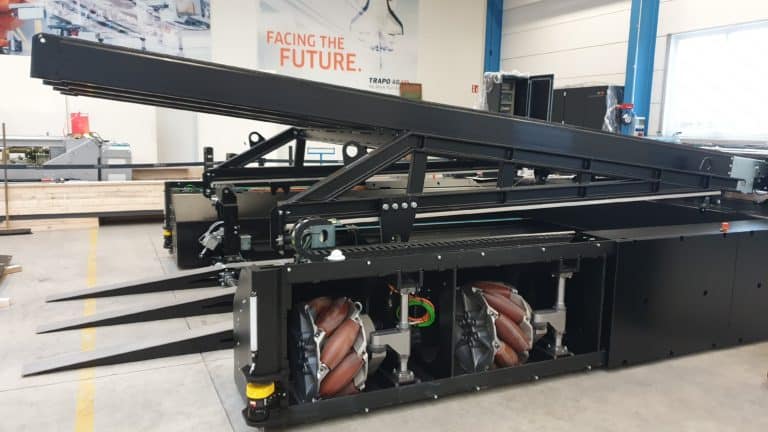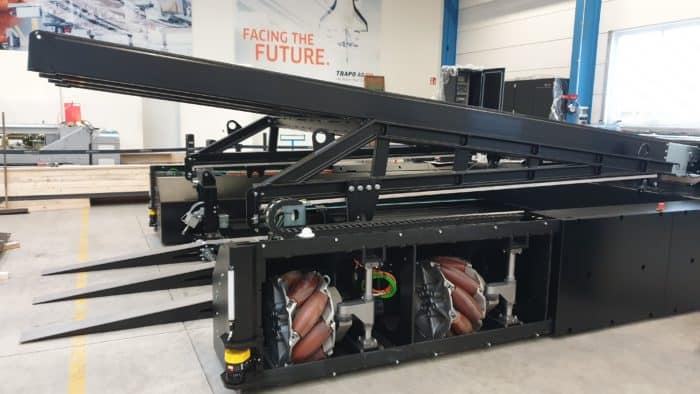 TRAPO Loading Mover
The TRAPO Loading Mover behaves like an XXL load carrier when it completely picks up the TLS and positions it in front of the loading ramp as required:
Changeover rail- or wheel-driven
Space-saving due to integrated control box
Performance:
Maximum capacity per loading operation: three pallets of 1.200 kg each.
Dimensions:
Vehicle with tines: 4,30 m
Total lenght: 7,75 m
Conveying height: 1,40 m
Weight:
Unloaded 5,3 t, loaded 8,9 t
Autonomous driving: Laser scanner for contour detection on the loading unit; distance sensors for position detection; rear-wheel steering in the vehicle
Loading time:
Reduction to up to 30 minutes (depending on the load/for a 13-meter trailer holding 33 pallets).
Power supply:
TLM with cable connection
TLS with cable connection or with energy storage unit (loading in TLM)
Delivery of Euro pallets optionally by shuttle-fleet or rigid conveying system
Required area for autonomous loading and unloading in the loading zone: Approx. 14.00m total length