TRAPO AG: Production of pet food in food quality
The HLDP series high-performance layer depalletizer for cans and empty jars is the fastest in the world at 90,000 units per hour. Also a novelty in this performance class: the system is operated completely at ground level – a second operating level by means of a platform is avoided.
For pet owners, dogs, cat & Co, are real family members - they are fed optimally and varied. When it comes to canned food, we as TRAPO AG provide support with a high-performance layer depalletizer operating at ground level, which provides up to 90,000 cans per hour for filling. It is not only the feed that has to be of the highest quality, but also the production process.
Task
With the aim of increasing efficiency and performance, a well-known manufacturer of pet food installed a new, fully automated depalletizing line for cans. The task was to safely depalletize empty cans of different sizes and to feed them via a conveyor system for filling with pet food.
Solution
TRAPO convinced with the use of a lifting column in combination with a magnetic gripper and thus enables the efficient depalletizing of empty cans as a complete layer – with an output of up to 1,300 cans per minute.
The fully automated depalletizing line enables a complete layer of empty cans of different sizes – optionally 100/ 200/ 400/ 600 or 800 g – to be gripped on pallets up to three meters high and to be safely depalletized and loaded as a complete layer in one work step.
Introduction of the pallet and pallet magazine to the line.
Metal pallet stacking frames provide the optimum transport security for loose products such as empty cans. Applied as the end of each layer, they create fully-fledged transport units that are ideal for stacking. In a first depalletizing step, these reusable pallet top frames are removed by a magnetic gripper and deposited in a space-saving manner.
This is followed by the core task of depalletizing empty cans: A magnetic gripper with integrated pneumatic magnetic plate for maximum holding force picks up the entire layer of cans, including the stabilizing cardboard intermediate layer.
The magnetic gripper enables energy-efficient and process-safe handling of ferromagnetic workpieces. The permanent magnet is moved by pneumatics. This enables it to securely grip the magnetic workpieces – in this case, empty cans – and place them back down again in an optimum manner.
The magnetic gripper was installed on a lifting column with Y-axis from the high-performance layer palletizer product family (HLP series). This enables high outputs to be achieved with process reliability, even with tall packs of up to three meters in height.
In a third step, a downstream vacuum gripper removes the stable cardboard layer pad, which protects the can layers on the pallet against external influences. These are also stacked in a magazine and made available.
The magnetic gripper places the empty cans securely on the conveyor belt and transports them onward for filling.
Requirements
High safety requirements
Can be operated at ground level
No second operating level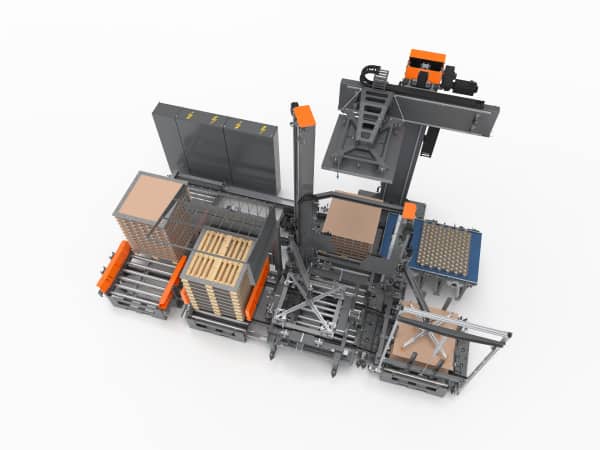 Complex, fully automated depalletizing line for food cans with 90,000 cans per hour.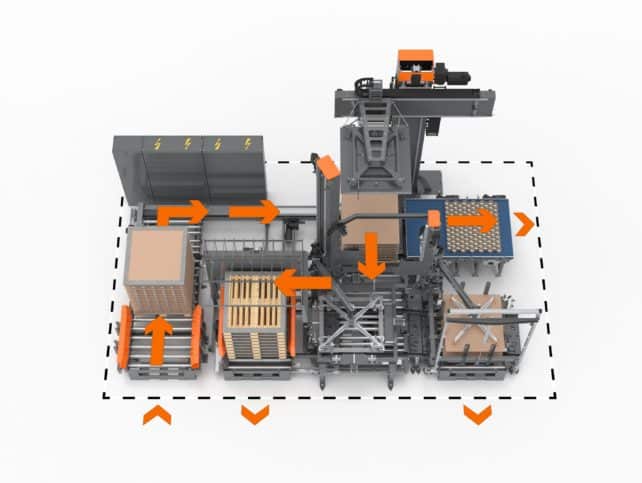 Empty cans are placed on the conveyor belt and transported for filling.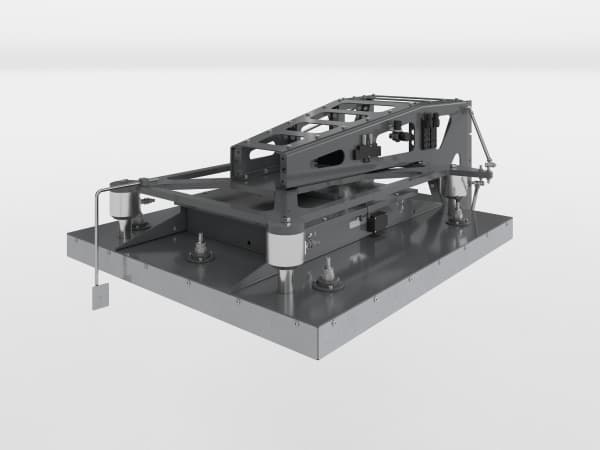 Magnetic gripper with integrated pneumatic magnetic plate - for maximum holding force when picking up the total layer.