Special solution from TRAPO: Erecting infusion bottles
Infusion bottles are manufactured, filled, sterilized, tested and packaged fully automatically under sterile cleanroom conditions. In this sensitive, medical technology cleanroom environment, developments from TRAPO AG make an important contribution.
We are proud to contribute to the healthcare system with our automation expertise!
Task
The task was to handle and pack infusion bottles particularly effectively. Special solutions were required, which were satisfied, for example, by erecting the infusion bottles using a chain. Another assignment for the TRAPO competence team: automated control functions.
Solution
The manufacturer is responsible for filling the infusion bottles; TRAPO Technik takes over afterwards.
Handling
An individual gripper solution enables the robot to optimally remove the bottles arriving on the conveyor belt.
These are placed in a sterilization tray provided.
Loading the sterilizer
A second robot picks up the trays and places them in a rotary sterilizer. The factory is responsible for sterilizing the autoclaves with infusion bottles.
Removal | Onward transport
Teamwork: In a dual function, the robot that previously filled the trays removes the trays and makes them ready for unloading. The second robot removes the infusion bottles and places them on a conveyor belt for transport away.
The factory solution takes care of passing through the dryer tunnel, high-voltage inspection for damage to the bottles, and scanning for possible foreign particles inside.
Onward transport | Inspection
With TRAPO quality control, labeling is preceded by a comparison of the label, batch number, and best-before-date with a higher-level ERP system. A scanner then checks the presence and legibility of the labels. In case of errors, the bottle is rejected by a pusher.
Packing
The sterile solutions are erected via a chain and packaged in a combination of bottles, package inserts and cardboard packaging. Here, too, TRAPO carries out quality control using scales and sensors and documents the sealing of the cartons, which are then palletized.
The proven TRAPO technology, which attracted follow-up orders.
Requirements
Safe handling of infusion bottles
Use of an individual gripper solution
Loading of the rotary sterilizer
Removal and transport of the sterile infusion solutions
Chain for erecting the bottles
Quality control by scales and sensors
Documentation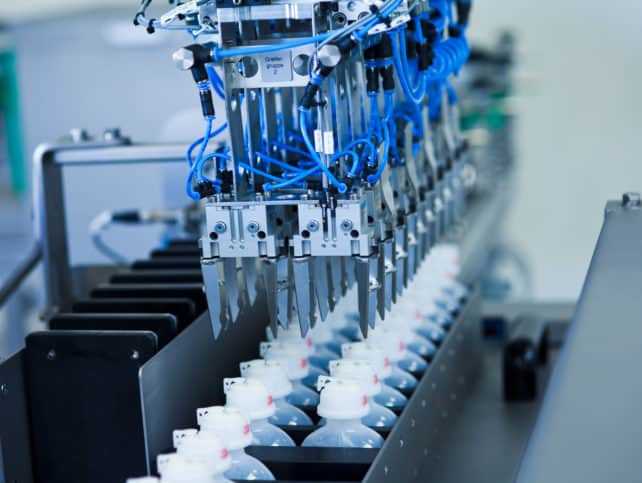 greifer-flaschenverpackung-trapo-ag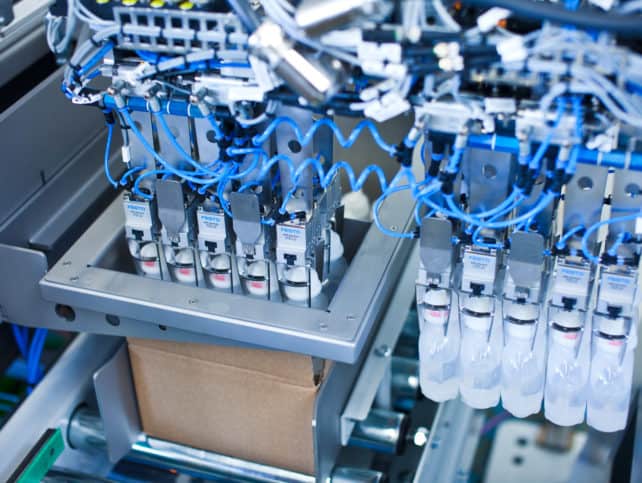 flaschen-in-karton-trapo-ag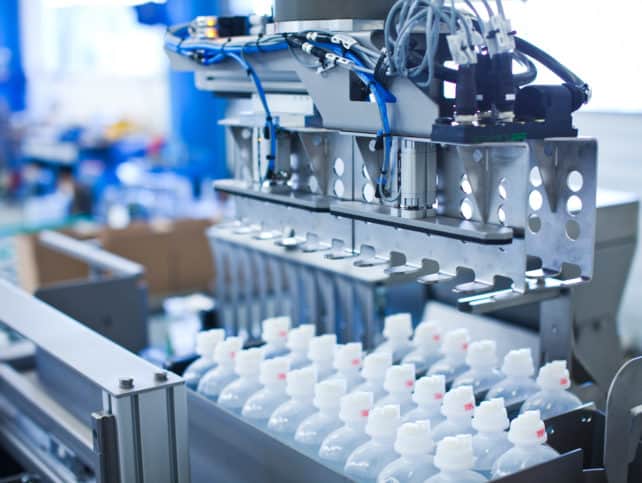 greifer-fuer-grosse-flaschen-trapo-ag